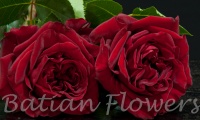 garden rose Mayra's Red
Garden rose Mayra's Red is a real bridal bloom, with sweet swirls leaves in a real garden rose shape. This deep red garden rose will add femininity to your special day. Mix with different types of roses in soft shades or sisters Mayra's Peach, Pink and White for a beautiful bouquet.
And while Mayra's red is really perfect for wedding arrangements, it does not do justice to the versatility of this charming flower.
Share